Bicycle Accident Caused by Left-Handed Turn in Gap of Traffic
Gaps In Congested Traffic Is A Common Situation In Which Motorists Often Fail To Yield To A Bicyclist's Right-of-way
Although less common than the bicycle accident caused by a motor vehicle making a left-hand turn at an intersection, a bicycle accident caused by a left-handed gap turn is just as dangerous.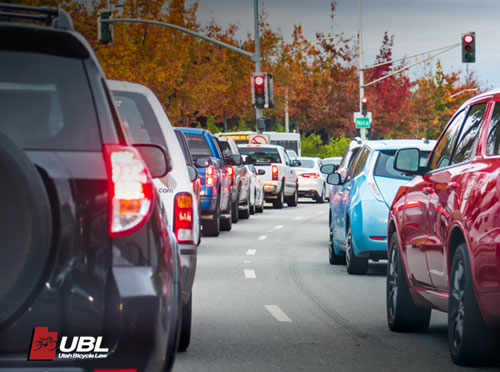 A left-handed gap turn accident occurs when a motor vehicle attempts to make a left-hand turn in-between a gap left by oncoming congested traffic. Unfortunately, because the cyclist is appropriately riding his or her bicycle to the right of the congested traffic, the motor vehicle often fails to yield to the oncoming cyclist who has the right-of-way, often resulting in a serious collision that results in the cyclist being severely hurt or even killed.
If you or someone you care for has been injured or killed by a motor vehicle making a left-hand turn, you probably have important questions that need answering.
You can receive answers to your questions by calling our bicycle accident attorneys at (801) 869-6800 or by leaving a message for us by completing the contact form. Our experienced bicycling accident lawyers are based in the heart of Salt Lake City and handle bicycling accidents throughout the State of Utah.
Our trusted bicycle accident lawyers work on a contingency fee basis, meaning you will not pay a dime unless they get money for you. Call or contact us now.
Contact A Trusted Bicycle Accident Attorney
Call us at (801) 869-6800